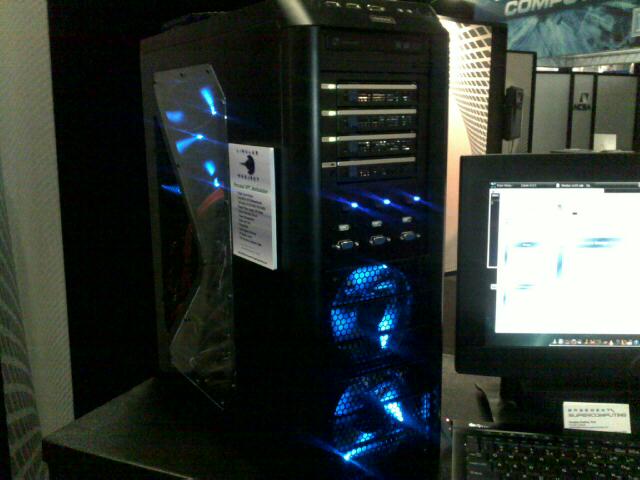 Doug Eadline, this week, unveiled his long awaited Limulus desktop supercomputer.  Wait, a person unveiled a desktop supercomputer?  Doug has been diligently working away in his basement on a design for a functional desktop supercomputer that uses commodity parts running Linux.  Limulus [Linux Multicore Unified Supercomputer] is the result of all his hard work and energy.
Doug set out many months back with a serious set of design constraints: Low cost, Power efficient, Quiet/Cool.  He wanted to essentially put the cluster next to your desk without breaking the budget.  SGI, Cray and others have developed such things already, but certain configurations command a premium.
His design consists of a standard Antec 1200 case, three micro-ATX nodes, an ATX head node and a little sheet metal.  The case, as a whole, is no larger than the original Antec 1200.  Doug fabricated some sheet metal inserts in order to house the three micro-ATX compute nodes.  He also built in an eight-port Ethernet switch inside.  All the nodes are diskless and have their respective 15pin DSUB and USB connectors exported to the front of the case.  The entire package runs via single 850W workstation power supply.
All in all, Doug's first experiment with single-chassis desktop clusters was a success.  In the future, he plans on refining a few of the design queues and integrating the latest [denser] silicon.  If you're interested in learning more about Limulus, swing by the SiCorp booth on the SC09 show floor.  Doug's demo is up and running.  If you're not at the show, check out the Project Limulus website with all the details here.