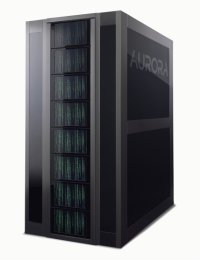 Eurotech, today, announced the launch of the latest in the Aurora series of supercomputing platforms.  Deemed a "Green Petascale computing platform", the Aurora AU-5600 the latest Intel 5600 series "Westmere" processors.
Aurora has always been a clear leader in terms of capability, TCO and optimal resource use" said Giampietro Tecchiolli, VP and CTO of the Eurotech Group. "The new 6-core Intel Xeon 5600 series are a perfect match for the Aurora architecture, bringing new levels of performance while further reducing the total power requirement footprint".
Aurora Au-5600 benefits from the liquid cooling solution that Eurotech has designed for its HPC family, enabling unprecedented levels of density and reliability.
Aurora HPC systems are liquid cooled and this brings exceptional savings on the electric bill," said Walter Rinaldi, Aurora Product Manager. "With a coolant inlet temperature that can be as high as 40C, Aurora is one of the greenest HPC systems available today".
For more info, read their full release here.