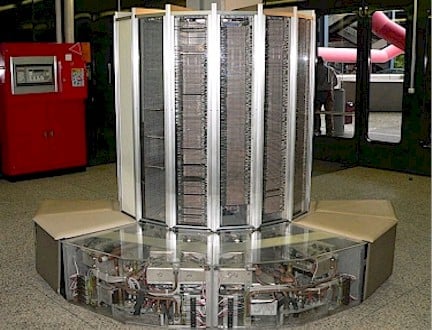 From the "wtf" files comes a story about vintage supercomputing goodness and the people that hoard it.  Do you have the logic boards from a Convex C1?  What about interface units from a Cray C90?  Well, you might want to hang on to them.  According to an article today at TheRegister, two individuals recently listed original gate array modules from the first Cray-1 supercomputer.  The first seller, from the UK, listed his representation of the "first" module for £550.
This seller claims that the Cray 1 module came from the very first Cray-1 super, which was installed at Los Alamos National Laboratory in 1976 after a bidding war with Lawrence Livermore National Lab. This original Cray-1 was shipped off to the European Weather Centre in the UK, and then absorbed into the bowels of a UK government site for heaven only knows what purpose.
Dan Mathais, who sells electronic components and houses a serious collection of vintage computing gear, list a similar Cray-1 module on eBay for $1,000.
For those of us intimately involved in the computing industry, this sort of nostalgia may hold some sort of value.  The Cray-1 is certainly worthy of certain historic merits as well.  Either way, if you're the bloke holding on to the first light bar ever wired to a Thinking Machines CM-5, I suggest you hold on to it.
If you're interested in reading the whole article, check it out here.