By Timothy Prickett Morgan • Get more from this author
Three weeks ago, Oracle co-founder and chief executive officer, Larry Ellison, gave us all a preview of the upcoming Sparc T series processor roadmap as part of the rollout of the Sparc SuperCluster, an Exadata-style parallel database machine based on the current Sparc T3 processors. In the wake of Ellison's revelations, Rick Hetherington, vice president of hardware development at Oracle, did a Q&A interview with Oracle PR that shed a little more light on the Sparc T chip roadmap.
In that Q&A interview, which you can see here, Hetherington said that the next-generation Sparc T4 processor was "less than 12 months away," and said that Oracle had over 1,000 engineers working on the processors. Hetherington added that the Sparc T4 had a new core that "brings together the combination of throughput performance through threading as well as really high-speed single thread performance" and said further that this core was developed in 2006 and 2007 and would be delivered in 2011.
Take a look at the Sparc processor roadmap from circa June 2009, which Sun was showing to customers in the wake of killing off the 16-core "Rock" UltraSparc-RK processor: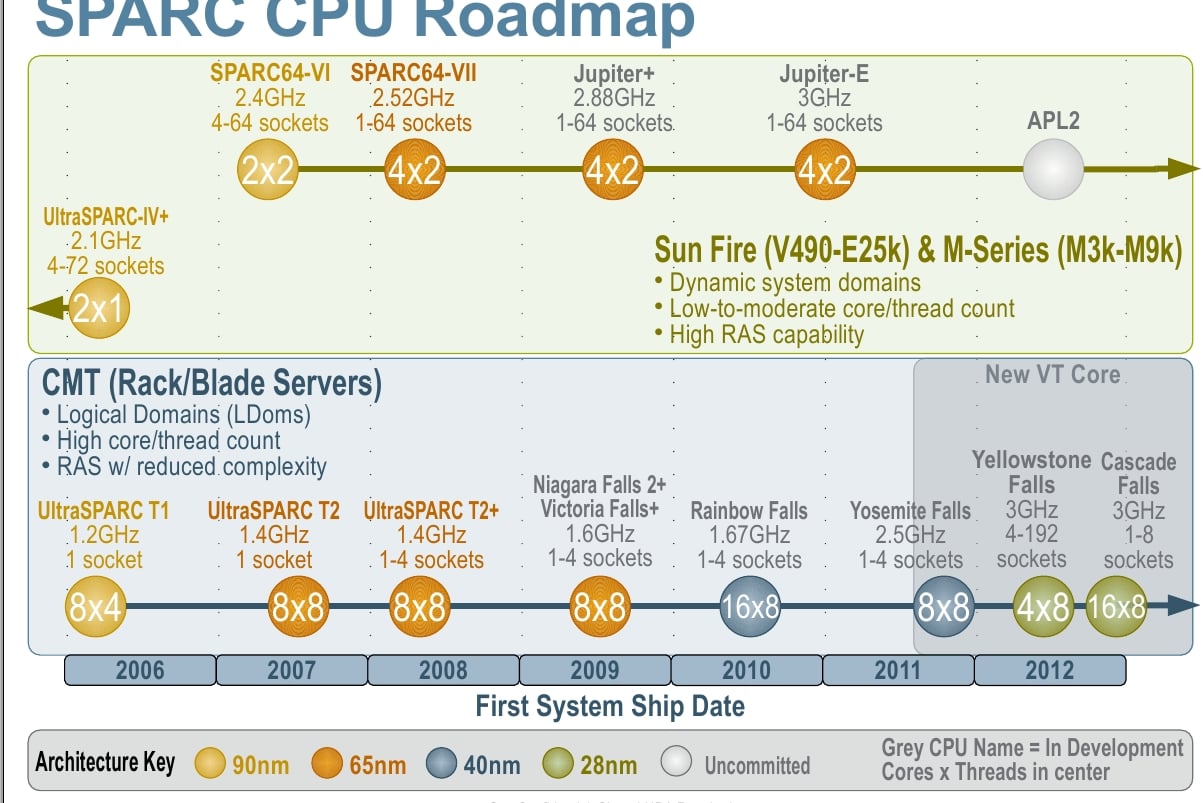 The current "Rainbow Falls" Sparc T3 chip, which has 16 cores with eight threads in each core, runs at 1.65 GHz and is implemented in a 40 nanometer process by Sun and now Oracle wafer baking partner Taiwan Semiconductor Manufacturing Corp. There was supposed to be a 2.5 GHz, 40 nanometer part coming out in 2011 on the original Sun roadmap, called "Yosemite Falls," due in late 2011 and then a pair of 3 GHz chips with either four or 16 cores, called "Yellowstone Falls" and "Cascade Falls," due in 2012. Yosemite Falls, Yellowstone Falls, and Cascade Falls were all to use a new core, code-named VT.
Now take a look at the current Ellisonized Sparc roadmap: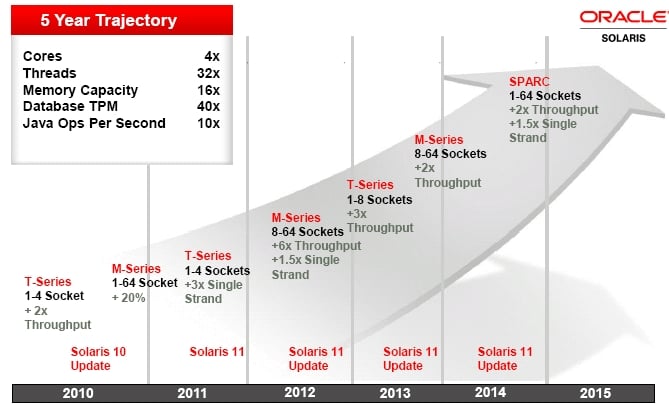 Oracle has been promising a 3X improvement in "single strand" performance, which everyone takes to mean clock speed. Being rambunctious and eager to see Oracle compete with IBM and Intel in the chip racket – in a way that Sun used to – I assumed that the Oracle Sparc roadmap implied a factor of 3X boost in clock speeds over the current Sparc T3 chips, not over the low-bin 1 GHz clocks on the original Sparc T1 chips from 2006. But if you assume that Oracle means the latter and not the former, then the Sparc T4 could come in at a mere 3 GHz, not the 4.8 GHz to 5 GHz I had been hoping for based on comparisons to the current generation of Sparc T2+ and T3 chips.
What it looks like to me is that Oracle is taking the Yosemite Falls processor from the original Sun Sparc roadmap and cranking it up to the Yellowstone Falls speed.
Hetherington also said in the Q&A interview that the Sparc T5 would have 16 cores like the current Sparc T3 chip does, and said further that the T5 chip would be implemented in a 28 nanometer process. That seems to mean to me that Oracle has killed off Yellowstone Falls and the Sparc T5 is actually Cascade Falls, more or less.
In the future Sparc T family of chips, explained Hetherington, Oracle will be aligning its application, database, and middleware stack to the Sparc chips and vice versa such that when performance is critical for instructions relating to an Oracle application, one thread on a multithreaded core in a Sparc T machine can hog the thread and not share resources with other threads, allowing the application to run faster. Lower priority applications get threads when they become available. Hetherington did not elaborate on how much extra performance at the system level this might yield.
IBM does a similar thing with the four threads on each core of the Power7 processors, by the way, which it calls intelligent threading.
One last thing: In the story on the Sparc T4 and T5 chips from three weeks ago, I suggested that Oracle might be overclocking the Sparc chips to reach the 5 GHz stratosphere of chip clock speeds. While this might not be the case, the question we need to be asking Oracle – and remember, Oracle doesn't answer questions – is: if not, why not? For a certain set of customers, particularly in the financial services segment that Sun used to utterly dominate, a hot server is not nearly as bad as one with a low clock speed.
Maybe there is a place for overclocked Sparc T4 and T5 machines, which come with a premium price and which need to have their processors replaced perhaps once a year. So searching through the Sparc bins to find parts that can run at maybe 4 GHz and then putting advanced cooling such as water blocks on the chips to keep them cool would make Oracle's lineup more competitive with the Unix systems from IBM and Hewlett-Packard and keep better pace with high-end Xeon boxes from Intel's server partners.
It isn't the dumbest idea out there. Appro International and Silicon Graphics are starting to sell overclocked Xeon servers. So what is wrong with Oracle selling overclocked Sparc T servers? ®
This article originally appeared in The Register.