By Timothy Prickett Morgan • Get more from this author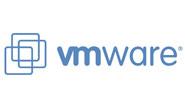 VMware is unquestionably the bellwether of virtualization on the x64 server platform, particularly within corporate data centers that run companies not in the internet business. And among VMware's customer base, the penetration of virtualization is on the rise.
Virtualization use is not just expanding in terms of the percentage of workloads that are resting atop a hypervisor (and blissfully unaware that their operating systems are not in absolute control of physical hardware, as operating systems like to be). Virtualization is also being more widely applied to workloads, large and small.
Speaking at yesterday's launch of the vSphere 5.0 in San Francisco, VMware president and CEO Paul Maritz said that back in 2009, in the wake of the Virtual Infrastructure 3 launch a year earlier, about 30 per cent of the workloads among the VMware customer base running on x86 and x64 machines that could be moved to a hypervisor and virtualized. A lot of these workloads were relatively lightweight, what he called tier 2 and 3 software.
But after the vSphere 4.0 stack came out in 2009, significantly increasing the virtual CPU and memory capacity of a virtual machine as well as its virtual network and disk bandwidth, virtualization penetration at the x64 shops that are VMware customers continued to rise. By 2010, about 40 per cent of the workloads at VMware shops had been virtualized, and Maritz said that the company is expecting to break through the 50 per cent level by the end of this year. "50 per cent means there is still 50 per cent to go," Maritz said.
Interestingly, VMware believes it can add about 10 per cent of additional virtualization penetration per year going forward. The implication is that around five or six years from now, at the current pace, all of the workloads VMware can practically get on its hypervisors will be moved to an ESXi hypervisor. (There will no doubt be a smattering of Hyper-V, KVM, and Xen at VMware shops, of course.)
Wall Street, don't panic
The workloads on x64 machinery are growing, and growing fast, says Bogomil Balkansky, vice president of product marketing at VMware. He cites IDC data that suggests the workloads on x64 servers are growing at around 15 per cent per year, and the analysts at Gartner suggest it is more like 30 per cent per year.
Thanks to the fattening up of the ESXi hypervisor in the past three generations, and the increasing capacity of guest virtual machines running atop that hypervisor, as well as the increasing physical capacity of x64 machines, even a high level of overhead that might be incurred by using server virtualization can be technically and economically absorbed. And that is why some denser applications database and email servers, ERP suites, and other fat code ­are making their way onto hypervisors.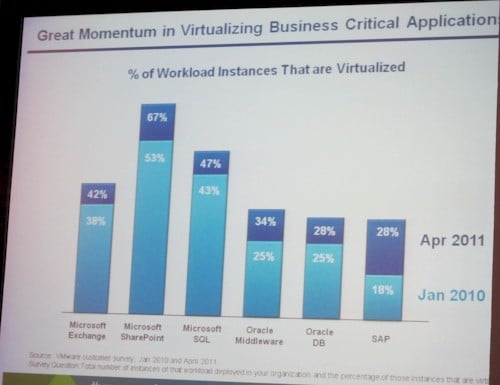 Hypervisors are lifting heavier jobs in data centers
Clearly, companies that use VMware's ESXi hypervisor have no problem virtualizing their SharePoint servers, and they are getting used to the idea of virtualizing Exchange Server and SQL Server, too. It might surprise some people to see the penetration that VMware is getting with Oracle's middleware and databases in the past year, and the rate of virtualization for SAP suites has made the biggest jump in the past year. ®
This article originally appeared in The Register.