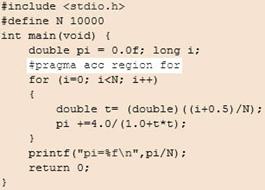 Today Nvidia released preliminary results from its new "2x in 4 Weeks. Guaranteed." program. According to the company, Hundreds of scientists and researchers around the world have registered for the program since it was announced two weeks ago, and some have achieved 5x application speed-ups in as little as one day of programming.
A postdoctoral fellow at the Netherlands Institute for Radio Astronomy (ASTRON) and the University of Groningen is benefiting in his work to understand the origins of the universe using tens-of-thousands of low-frequency antennas of the LOFAR telescope. Within five days of using directives, he was able to accelerate his image-reconstruction application by 5.6x.
Existing compilers from Cray, PGI and CAPS are expected to provide initial support for the OpenACC standard beginning this month. Read the Full Story.