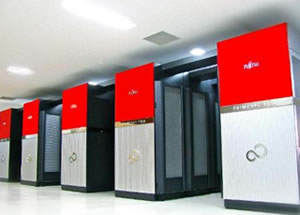 Today Fujutisu announced that the new Oakleaf-FX supercomputer has begun opeation at the University of Tokyo's Information Technology Center. Based on the SPARC64 IXfx processor (an enhanced version of the SPARC processor used in the #1 K Supercomputer), the 1.13 Petaflop system achieves high energy efficiency with just 1.4 MW overall system power consumption.
The PRIMEHPC FX10 supercomputer system will contribute to advancements in various types of research and development activities by users from both academia and industry," said Kengo Nakajima, Director, Supercomputing Division, Information Technology Center, The University of Tokyo. "Oakleaf-FX will be used for the HPC education program in the Graduate School of the University of Tokyo for future computational scientists. Oakleaf-FX will be operated so that priority is given to larger-scale jobs. Furthermore, a new project, called "Large-Scale HPC Challenge" is also starting. Members of a group whose proposal has been accepted can occupy all computing nodes (4,800 nodes, 1.13 PFLOPS) of the FX10 system for 24 hours. One proposal is selected per month."
Read the Full Story.