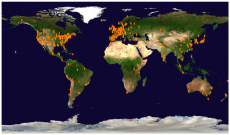 Linda Vu writes that climate researchers are using Earth System Grid Federation as a veritable Silk Road for sharing data.
To ensure that climate information travels reliably from scientist to scientist, making it from "end-to-end" on ESGF, ESnet engineers worked with the climate community to deploy perfSONAR network-monitoring infrastructure. These tools, co-developed by ESnet together with Internet2 and several international collaborators, help network engineers identify performance problems across multiple networks. Once a problem is identified, ESnet engineers work with staff from other institutions to address the root cause and ensure that data can flow at the speed required for science.
Read the Full Story.