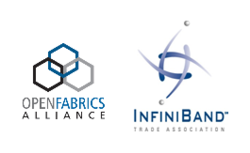 The InfiniBand Trade Association (IBTA) and the Open Fabrics Alliance (OFA) are joining up at a booth this year at SC12 as well as a panel session on future I/O architectures.
I/O is a significant factor in enabling the performance and scalability for HPC and Big Data analysis. The panel session, "Exascale and Big Data I/O" will be moderated by Bill Boas from System fabric Works and will discuss the Tier1 OEM and End Customer/User requirements for future I/O architectures, standards and protocols, and whether they should be open or proprietary. Panelists will include top industry technologists such as Larry Kaplan, I/O architect at Cray, Sorin Faibish, chief scientist, Fast Data Group at EMC, Ronald Luijten, data motion architect at IBM Zurich Research, Michael Kagan, co-founder and chief technology officer at Mellanox Technologies, Manoj Wadekar, chief scientist QLogic, and Peter Braam, storage software fellow at Xyratex.
The panel session will take place on Wednesday, Nov. 14 at 1:30 p.m. in Room 355-BC. Visit IBTA and OFA at SC12 booth #3630 for more information or read the Full Story.