DDN has launched a $100,000 prize to recognize scientific breakthroughs enabled by high performance computing with major research institutions pledging their support. The global program focuses on scientific advancement and insight through the exploration of novel approaches to Big Data analysis, Exascale processing, cloud computing, memory-class storage and other emerging developments in HPC.
For more than 12 years, DDN's leading-edge storage solutions for content-intensive computing have helped universities around the world redefine the boundaries of science and research," said Alex Bouzari, CEO and cofounder, DDN. "With WARP, we will accelerate the incredible changes of the Big Data era by bringing together the best minds in our industry, and also by providing needed support to the next generation of groundbreaking researchers."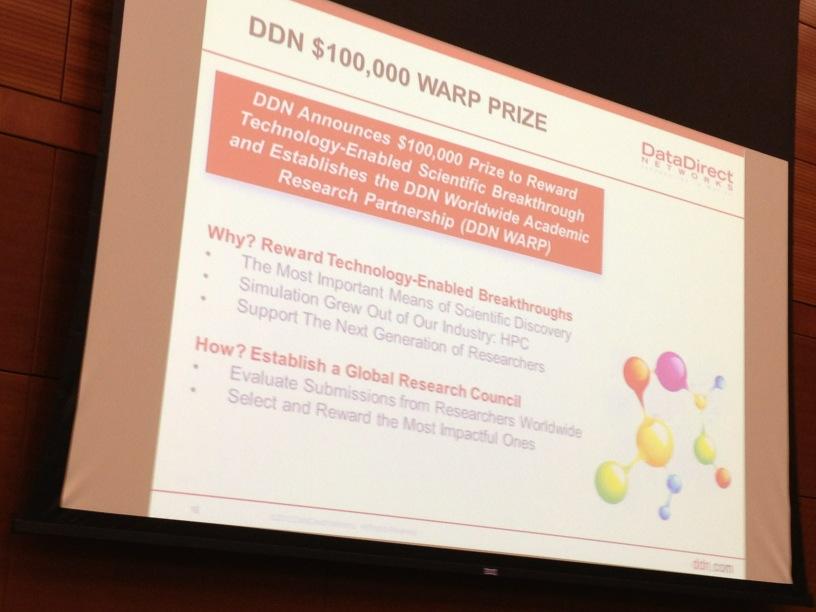 In conjunction with the WARP program, the company also announced $100,000 in annual prizes to recognize emerging scientific breakthroughs enabled by technology, including a $75,000 first prize and a $25,000 second prize each year. A WARP board of advisors will be established to influence the direction of the WARP program and to select the annual WARP Prize winners. Read the Full Story.
A Tip of the Hat goes out to Suhaib Khan for this photo of DDN's WARP slide from the Saudi Arabian HPC Conference at KAUST. The event is going on all weekend, and you can follow his Twitter Event Coverage with hastag #SAHPC.