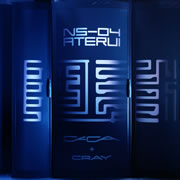 Today Cray announced that the National Astronomical Observatory of Japan (NAOJ) has put one of the world's fastest supercomputers solely dedicated to astronomy into production. The new Cray XC30 supercomputer runs complex simulations — experiments that they hope will one day answer longstanding questions, such as the formation of galaxies and the origin of the solar system.
A reliable, powerful supercomputer is a vital resource for our researchers and engineers, and we are pleased that the Cray XC30 supercomputer is giving our users the computational tools they need for the effective reproduction and study of astronomical phenomena," said Eiichiro Kokubo, director of NAOJ's Center for Computational Astrophysics (CfCA). "Performing astronomical experiments in a laboratory setting is difficult, but our new Cray XC30 supercomputer is allowing us to perform the advanced numerical simulations that are crucial to our research."
Nicknamed "ATERUI," the eight-cabinet Cray XC30 supercomputer has a peak performance of more than 500 teraflops and is located at NAOJ's Mizusawa VLBI Observatory in Iwate, Japan. Read the Full Story.