Over at VentureBeat, Dean Takahashi writes that IBM released details this week on its massive 12-core Power8 microprocessor for enterprise IT.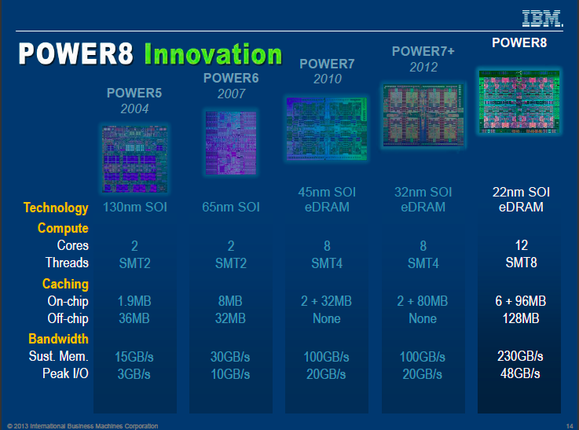 The chip is 650 millimeters square and will be built with IBM's 22-nanometer silicon-on-insulator manufacturing technology. Capable of transferring data within the chip at speeds of 230GB per second, the 4 GHz Power8 has a 96MB memory cache embedded within the processor. According to IBM, each core is twice as efficient as past chips.
The entire Power-based ecosystem has lost many supporters in the industry like Freescale, AppliedMicro, Xbox and Playstation, so Power 8 is very important to get right," said Patrick Moorhead, an analyst at Moor Insights & Strategy. "It will be a real challenge to fight both Intel and AMD in this space given their scale, and very important to IBM given they are banking on Power architecture for the their platform future. We believe IBM will exit the X86 server market and sell their line to Lenovo, making Power8 critical to IBM's future success."
Read the Full Story.