Getting a multimillion dollar IBM supercomputer is something a research-oriented graduate program can usually only dream about. Nova Southeastern University's (NSU) Graduate School of Computer and Information Sciences has recently seen this dream come true as a generous benefactor along with IBM have brought the machine to the University to greatly empower the program's research capabilities. We sat down with Eric Ackerman, Ph.D., Dean of the NSU program, to talk more about the exciting news.
insideHPC: The recent news of the donation of an IBM multimillion dollar supercomputer for your Graduate School of Computer and Information Sciences was huge. What kind of things will this allow you to do?
Eric Ackerman: One of the things is Computational Biology which is an evolving field that impacts bot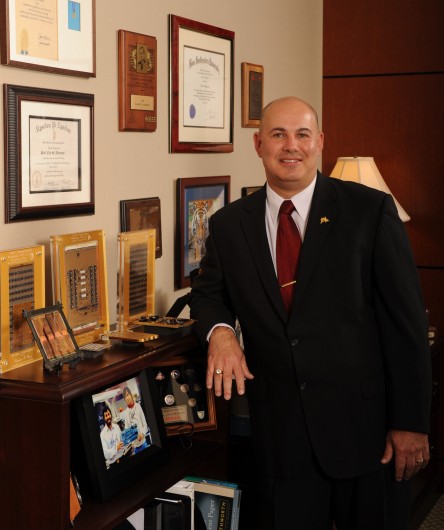 h basic Biological Science and Health Sciences, furthering our understanding of living systems at all scales through the application of computational methods. This would encompass approaches from Bioinformatics, Mathematical and Theoretical Biology, Biophysics and Computer Science.
insideHPC: Can you tell us more about the University and this graduate school within it?
Eric Ackerman: Nova Southeastern University (NSU) is a not-for-profit institution located in Ft. Lauderdale-Davie, Fla. We are a fully accredited and coeducational university that has been classified by the Carnegie Foundation as having "high research activity" and "community engaged". We were founded in 1964 as Nova University of Advanced Technology and in 1994 (by then Nova University) merged with Southeastern University of the Health Sciences to form Nova Southeastern University.
This year, 2014, marks our 50th anniversary. NSU now includes a lush 314-acre main campus; three additional campuses in South Florida, and eight regional campuses, including one in Puerto Rico. We provide access to more than 140 degree programs through a variety of options for student across the nation and around the world.
The Graduate School of Computer and Information Sciences (GSCIS) opened its doors in 1975, introducing the nation's first online graduate degree programs in 1983 and the first electronic classroom in 1985. Today, GSCIS offers more than 300 online and campus-based courses to students located across America, and in 20 countries. GSCIS's programs are renowned for preparing students for leadership roles in the computer and information sciences field. Graduates have gone on to work for major corporations including the FBI, NASA, Microsoft, Apple, and Google.


insideHPC: Also, can you elaborate on the University's relationship with IBM?
Eric Ackerman: NSU's relationship with IBM started during the discussions of the donation, as the University had not been a client in the past. However, the University was looking for a system that would provide its researchers with the ability to pursue their work further while being able to provide additional learning opportunities for our students and faculty. The IBM system will allow NSU to move forward with our goals for research, students and faculty enrichment, while providing a new and hopefully long-lasting relationship with IBM.
insideHPC: Who donated the machine and what's the relationship there?
Eric Ackerman: The machine was donated by Centaurus Energy of Houston, Texas and facilitated by IBM.
insideHPC: The computer has been dubbed "Megalodon," how did you come up with this name?
Eric Ackerman: The team at the Graduate School of Computer and Information Sciences wanted to give the computer a nickname – a name that would not only convey the super computer's  enormity in terms of size; but a name that would definitively link the super computer to NSU. Our mascot is the "shark" and the Megalodon, is the largest prehistoric shark known to man.
insideHPC: Let's talk about the technical side of things–the numbers. What are the specifics of this beast?
Eric Ackerman: The machine cluster is a collection of 32 nodes. Each pSeries 575 node has 16 P6 CPU's with 256 GB RAM each. Each CPU has 2 processor units that can run 2 threads each.  Each node has 256 GB real memory. It also has a DS 4800 Disk subsystem which is designed for data-intensive applications. The machine cluster is water-cooled using internal chilled plates and a rear cooling door on each rack.
The POWER6 is a dual-core processor. Each core is capable of two-way simultaneous multithreading (SMT). The POWER6 has approximately 790 million transistors. Each core has two integer units, two binary floating-point units, an AltiVec unit, and a novel decimal floating-point unit. POWER6 has hardware support for IEEE 754 decimal arithmetic and includes the first decimal floating-point unit integrated in silicon.
insideHPC: What about software? 
Eric Ackerman: The software stack consists of: AIX, General Parallel File System (GPFS), C++, Fortran, IBM Parallel Environment Runtime (PE), Engineering and Scientific Subroutine Library (ESSL), Parallel Engineering and Scientific Subroutine Library (PESSL), and Tivoli Workload Scheduler LoadLeveler.
insideHPC:  I'm sure the imaginations of the students have gone wild with this new addition. What have you heard from them about future applications that they may be dreaming of?
Eric Ackerman: Students are extremely excited about the growing field of Data Science. This machine allows us to connect to all of the degrees at NSU to big data.