By Rik Myslewski in San Francisco • Get more from this author
Intel announced on Wednesday a new line of tiny solid-state drives, the SSD 310 series, that have performance specs comparable to those of their 2.5-inch X-25 and 1.8-inch X-18 SSD brethren – and at least one manufacturer is already on board to put the little fellows into dual-drive notebooks.
The Intel SSD 310 series will allow us to provide the advantages of a full-performance Intel SSD paired with the storage of a hard disk drive in a small, dual-drive system," Lenovo's ThinkPad honcho Tom Butler said in a prepared statement.
A dual-drive system will allow users to put their system and apps on the SDD for fast boot and launch times, while storing their files and data on relatively pokey, inexpensive 2.5-inch hard drives.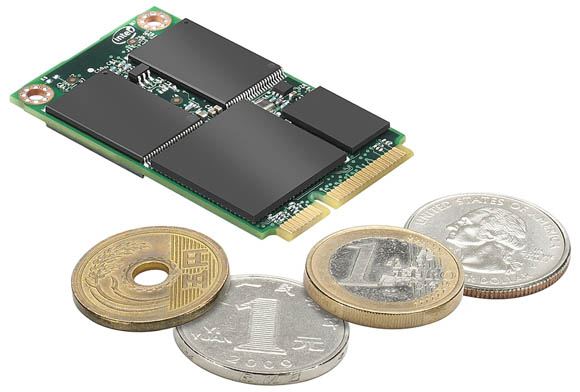 The latest example of how storage systems are shrinking
The SSD 310 series devices – available in 40GB and 80GB capacities, both composed of 34nm NAND chips – are small, indeed. Intel crows that the devices are "up to 8 times smaller than a 2.5-inch hard-disk drive," but that characterization takes all three axes – width, length, and thickness – into account.
To be exact, your mainstream 2.5-inch HDD is typically 70mm wide, 100mm long, and 9.5mm thick. The SDD 310 series devices are 29.85mm wide, 50.80mm long, and a bit less than 4.85mm thick. A typical 2.5-inch HDD weighs between 95 and 105gm, while the SSD 310s weigh under 10gm.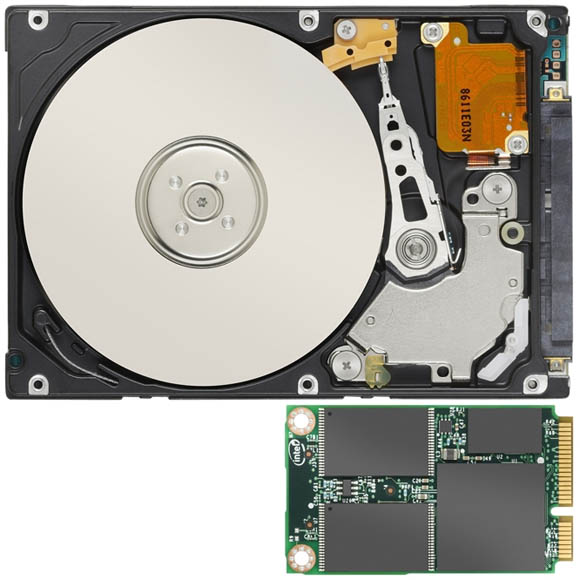 Ten years ago, would you have thought a 2.5-inch drive could ever look so gargantuan?
On paper, the performance of the SSD 310s stacks up quite nicely when compared with that of the Intel X18-M and X18-M Mainstream SSDs, as well as with that of a snappy 7200rpm 2.5-inch HDD such as the Hitachi Travelstar Z7K320, not to mention a garden-variety 5400rpm 2.5-incher such as the Travelstar 5K320.
Although comparing an SSD's sustained read/write rates with Hitachi's advertised media transfer rates is not as exact a comparison as we'd prefer, it's what we have to go on:

If not exactly apples to oranges, perhaps at least Granny Smiths to Gravensteins
The SSD 310 series also matches the X18/25-M series' MTBF of 1.2 million hours and operating shock of 1,500G/0.5ms – far superior to the Travelstar Z7K320's 400G/2ms, 225G/1ms and the 5K320's 400G/2ms, 200G/1ms.
The SSD 310 series is already shipping to customers, and at decent prices – for SSDs – when purchased in 1,000-unit quantities: $99 for 40GB and $179 for 80GB. ®
This article originally appeared in The Register.