The new Hermit Cray XE6 system at HLRS in Stuttgart is the third Tier-0 system in the PRACE Research Infrastructure (following JUGENE and CURIE). HLRS has a long history with Cray, so we caught up with Dr. Michael Resch to learn more about the system and its mission.
insideHPC: With it's vast experience in supercomputing, HLRS undoubtedly had many choices of architectures for this deployment, including building their own. What do you think were the most compelling attributes of the Cray XE6 for this mission?
Michael Resch: HLRS as a ccenter has a focus on engineering and industrial applications. As a consequence sustainable performance was one of the key points in our procurement. Furthermore we wer looking for a partner that could co-develop a next generation system with us and was willing to share knowledge and accept a partnership that goes beyond the usual customer-relationship. Cray was both offering outstanding sustained performance and a special partnership. This is going to be especially important when we will have to discuss GPUs as part of a next generation system.
insideHPC: Can you describe the performance characteristics of the Hermit Cray XE6 supercomputer as compared to its predecessors at HLRS?
Michael Resch: The Cray XE6 already now shows outstanding sustained performance in the Linpack benchmark and outperforms other systems with much higher peak performance. For our applications we expect to see sustained performance to be in the range of 20 – 60 % for our benchmark applications.
insideHPC: I remember my first visit to Stuttgart, attending a Cray User Group meeting back in 1997. What do you think are
the key factors that have driven this long-standing relationship between HLRS and Cray?
Michael Resch: The long standing relationship between Cray and HLRS is based on mutual trust. First and foremost Cray has excellent staff on the ground in Germany and Europe. There are quite some outstanding technical and software experts available that have a clear focus on the customer. Second Cray always understood what the requirements of HLRS were and how they changed over time. Finally Cray accepted the two-vendor policy of HLRS and was not giving up on the account when it was no in the leading position in that two-vendor concept.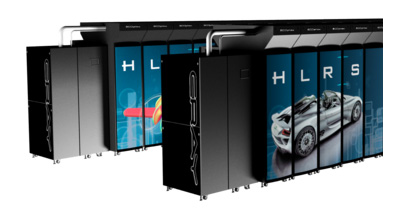 insideHPC: How will the European PRACE initiative leverage Hermit as a "Tier-0" system?
Michael Resch: PRACE users will have full access to the system. They will have to go through all bureaucratic procedures but once these hurdles are taken HLRS and Cray together will do their best to get the most out of the XE6 for every individual European user. Cray ad HLRS have set up a center of competence together which will add several scientific staff members to the crew to get their hands directly on all the codes that target the Petaflop.
insideHPC: The name, "Hermit" would seem to suggest a system that lives in isolation. With it's mission to to work directly with industrial partners in automotive and aerospace engineering, that is really not the case with this supercomputer, is it?
Michael Resch: Hermit has a number of meanings and I would like to keep it a secret what the name means until we will officially inaugurate the system in spring 2012. Actually the name has a lot to do with Stuttgart and the global change that is currently changing also the global position of the city.
insideHPC: When do you think users will be able to start using Hermit?
Michael Resch: As we speak we start to bring in the first users. We are going through acceptance and this includes early usage. We expect to see general usage to start December 1st.