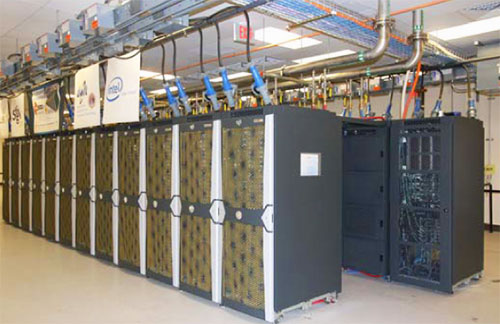 As reported here at insideHPC, the State of New Mexico is trying to dispose of its Encanto supercomputer in the wake of unpayed bills and a host center targeted for demolition. Now New Mexico Computing Applications Center CEO Thomas Bowles has written an editorial in the ABQJournal saying that the supercomputer is not the business failure portrayed by the media.
The center has been recognized by a number of awards in economic development, energy and information technology. Our efforts have put New Mexico on national and international maps in high-tech leadership and vision. This resulted in jobs in New Mexico as well as tax revenues to the state, thus compensating its investment. The center now stands at a crossroads. The supercomputer is no longer the third fastest computer in the world -but is still an extremely powerful and useful tool. Our 5-year agreement with Intel is ending and Intel has other plans for the building that is hosting the supercomputer. While the recession and loss of state support has made achieving financial stability difficult, we are making progress on that.
Bowles contends that Encanto has much utility left in it and that any state revenue gained from selling the supercomputer would be consumed by moving costs alone. Read the Full Story.