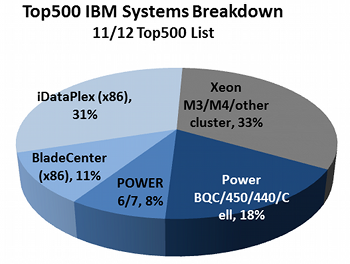 Over at The Register, Dan Olds looks at how IBM's potential sale of their x86 business to Lenovo would affect Big Blue's HPC business.
As a share of IBM's total sales to the Top500, typical x86 boxes are the largest segment in terms of system count at 33 per cent. These are IBM's M3/M4 and other traditional rackmount "pizza box" systems. The vast majority are dual-socket Xeon-based servers that can be found in pretty much every data centre in the world. Interestingly enough, 43 out of 63 of these systems reside in China and are used by Internet service providers. So if some sort of IBM-Lenovo asset sales takes place, Lenovo will have a home court advantage with these customers – and increase its presence on the Top500 list from a single system to 40+.

If we are talking about a full X-ectomomy, with IBM selling its entire x86 business to Lenovo, the implications are somewhat grim for future IBM HPC business. IBM would lose almost half its installations on the Top500 list, but only 30 per cent of the aggregate performance – meaning it would lose a lot of smallish system footprints. ("Smallish" in terms of Top500 – which is large in any other context.)
In terms of implications for IBM in HPC, Olds goes on to describe how some federal institutions will simply not buy supercomputers from a foreign vendor like Lenovo. Read the Full Story.