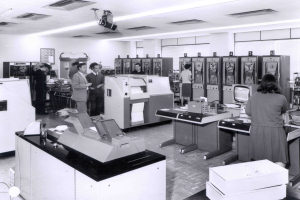 Scientists who worked on one of the world's first supercomputers will gather this week to mark its 50th anniversary. Developed at The University of Manchester between 1956 and 1963, the Atlas computer was at the time the most powerful in the world.
The Atlas event will bring together, probably for the last time, a unique group of industrialists, academics and end-users who contributed to a world-class project which brought a huge increase of computing power to the UK's scientific community in the 1960s," said Professor Simon Lavington, who started using Atlas as a research student in 1962.
The first production Atlas was inaugurated at the University on 7 December 1962 by Sir John Cockcroft, the Nobel prize-winning physicist who was Director of the UK's Atomic Energy Authority. Read the Full Story.