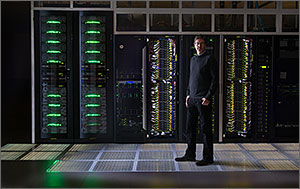 One of the missions of the National Renewable Energy Laboratory (NREL) is to advance renewable energy research. So when it came time to build their new HPC datacenter, they decided to "walk the talk" and push the limits of energy-efficient supercomputing.
Well, so far, so good. With the first petascale system to use warm-water liquid cooling and reach an annualized average power usage effectiveness (PUE) rating of 1.06 or better, the new HPC data center ranks with the most efficient supercomputers in the world.
We took an integrated approach to the HPC system, the data center, and the building as part of the ESIF project," said Steve Hammond, NREL's Computational Science Center Director. "First, we wanted an energy-efficient HPC system appropriate for our workload. This is being supplied by HP and Intel. A new component-level liquid cooling system, developed by HP, will be used to keep computer components within safe operating range, reducing the number of fans in the backs of the racks."
The first phase of the HPC installation began in November 2012, and the system will reach full capacity in the summer of 2013. Read the Full Story.
In related news, NREL is currently seeking a Senior High Performance Computing Engineer.